INTERVIEW: Sofi Tukker Talks Tour Must-Haves, The Knocks, and 'F*ck They'
Panorama's Parlor Stage closed Friday afternoon after the floor caved in. Panic ensued when fans learned about this tragedy as they worried about not being able to see quite possibly the most awesome duo on the lineup play a 4:20pm set the following day. Crew members worked through the night to make sure the stage would be ready, and Sofi Tukker was able to deliver an incredible Saturday afternoon set in front of family, friends, and fans during their first hometown festival performance.
iHeartRadio caught up with Sophie Hawley-Weld and Tucker Halpern, the masterminds that make up Sofi Tukker, after their energizing 10-song set. Sophie gushed about her love for squatting and matcha packets, Tucker talked about his evil basketball coach and how The Knocks' Ben Ruttner gave them the confidence to be a band.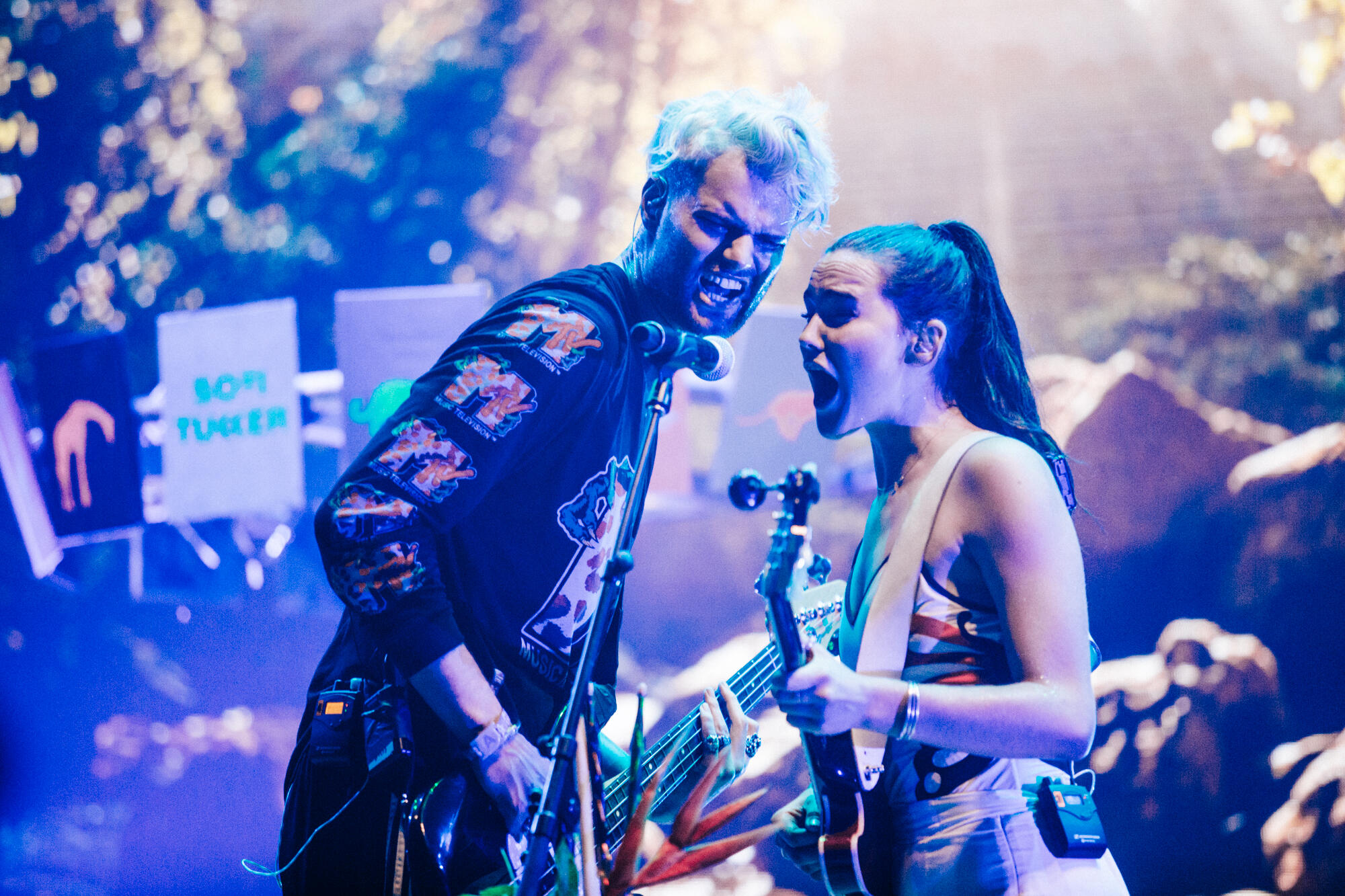 A few weeks ago, they released their latest track, "Fuck They," which has such a fiery message. It's the anthem to tell off anyone who ever put you down. Sophie likes to give different examples every time they're asked the question, "what inspired you to write the song?" She told us, "I like to squat and I'm often told in public that it's not appropriate." Tucker is one of the "theys" in that situation. To that, we say, you do you and sit however makes you feel comfortable. The question brought Tucker back to his college days. Tucker's basketball coach hated him because he had other interests. Sorry didn't realize life was ball 24/7 for someone like Tucker who had other talents. "He didn't like that I had other friends besides basketball players… it's a f*ck him for sure." The response to the song has been pretty great, fans are sending in their "f*ck they" videos, and that makes Sofi Tukker super happy. "We did a couple. then people just started posting them. We started reposting them and then people probably saw us reposting so then more people were like 'oh let's do it!' It was pretty organic though, it was cool."
With a slew of Summer festival dates and an upcoming tour with ODESZA starting in October, Sofi Tukker is pretty damn busy for the rest of the year. They wouldn't be able to survive all of that travel without some essential items. Sophie's obsessed with matcha, so she'll be bringing a full stock of little matcha packets on the road with her, along with these interesting water bottles they just got that double as foam rollers, and eye masks.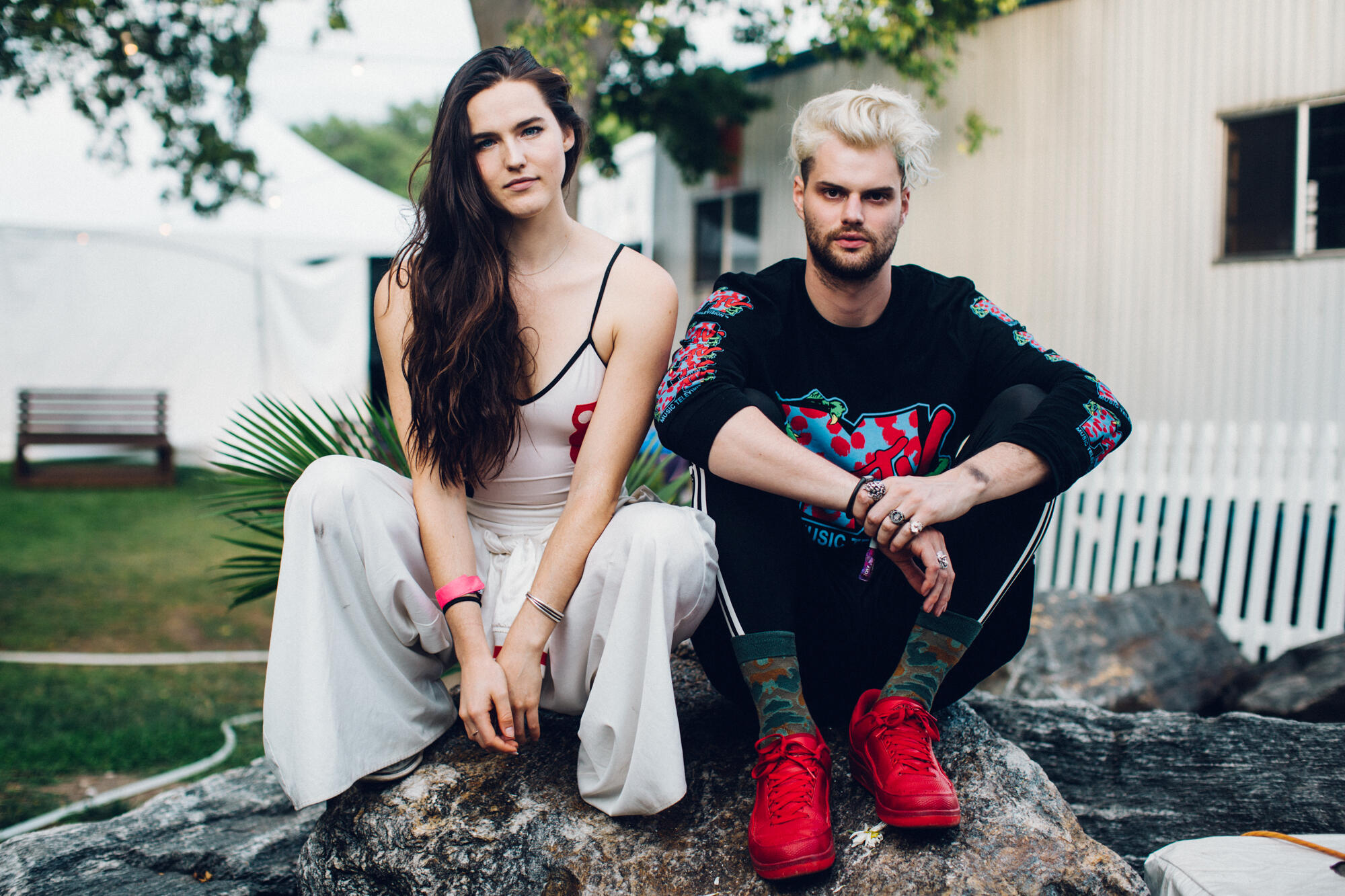 The ODESZA tour will be a bus tour, but it won't be Sofi Tukker's first rodeo. They went on a bus tour with The Knocks in 2016. We can partially thank DJ B-Roc for instilling in them the confidence to give the band thing a shot in New York. Tucker opened for them when they came to Providence to play a show and Tucker was a college senior at Brown. They hit it off and partied all night. Tucker recalls, "Ben asked what music I made. I didn't even really tell him I played music we were just kind of friends and then I sent him some stuff that Sophie and I had been working on sort of as an after thought. He was like 'Yo, you should pursue this this is cool' and then I convinced Sophie to move to New York with me and be in a band."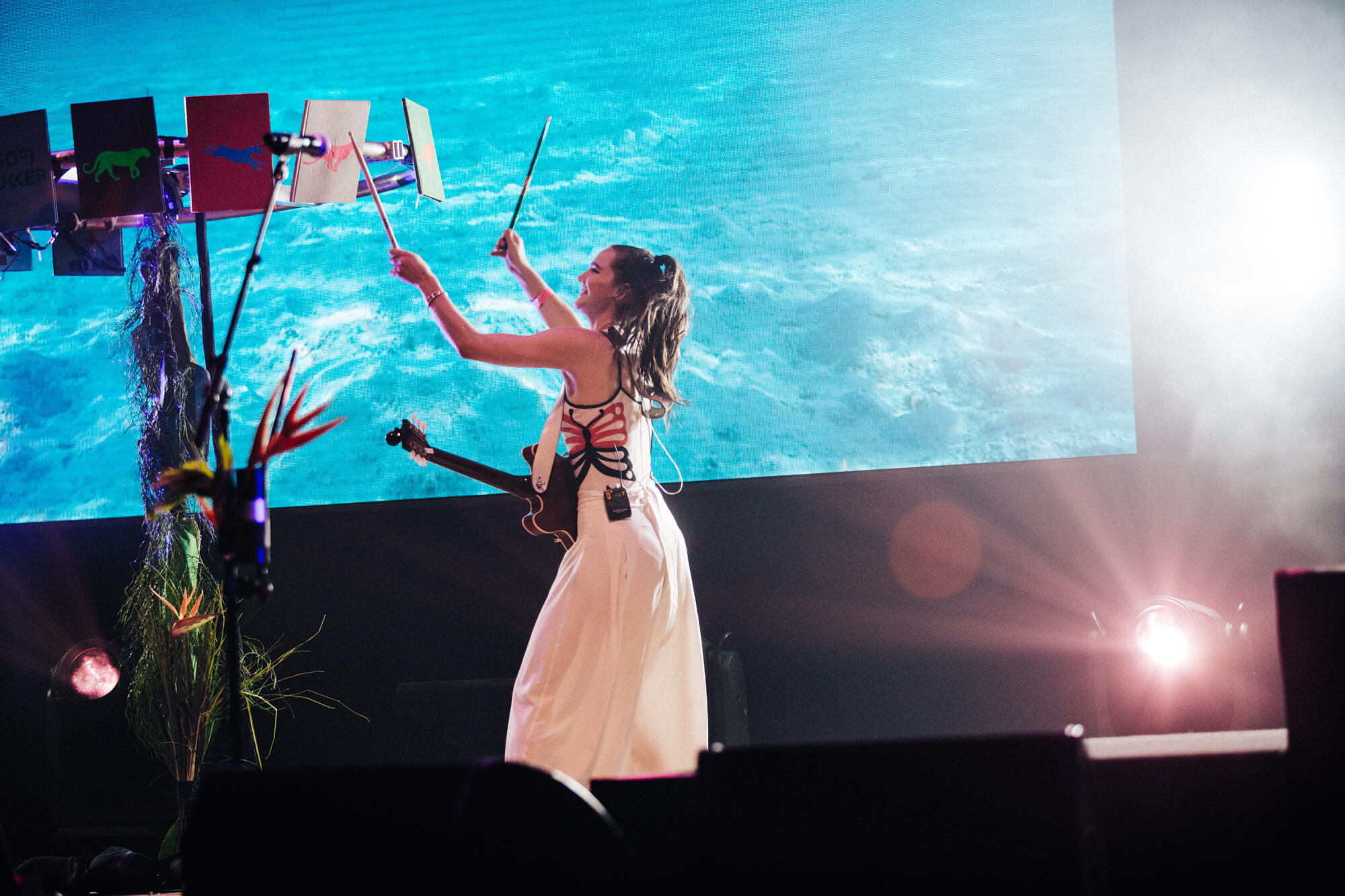 Ben's studio, Heavy Roc Music in Chinatown and home to Sofi Tukker's EP Soft Animals, is a creative den for writing, recording, and collaborating. Sofi and Tucker were in the studio just last week, and for the first time, they did something with The Knocks that we've been waiting for since the two duos toured together in 2016. At the end of 2015, The Knocks released their remix of Sofi Tukker's debut hit, "Drinkee." Sophie blurts out "We just wrote a song together." This was the natural progression of events and we can't wait to hear it. While there's no set release date for the track, Tucker says "It's really fun. They're making an album so hopefully it'll be on their album. I don't know when it comes out."
This weekend they'll be playing Osheaga AND two sets at Lollapalooza. If you're attending either, be sure to catch them live!
Photos: Rachel Kaplan for iHeartRadio