Marshmello Trolls 2018 iHeartRadio MMVAs In Canada With Identity Reveal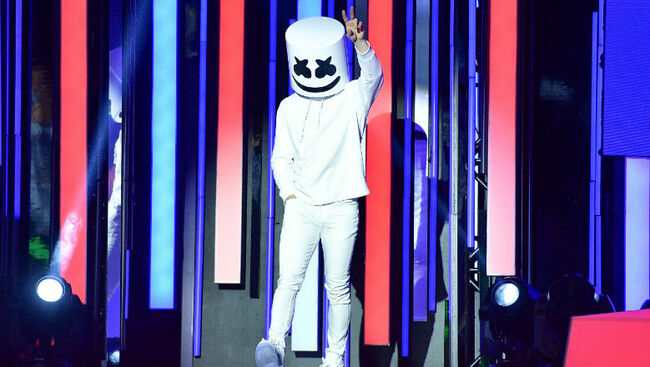 Folks have offered up a guess or two as to the identity of Marshmello, but viewers of the 2018 iHeartRadio MMVAs crossed one person in particular off their lists on Sunday (August 26) when the famed EDM heavyweight trolled the star-studded ceremony.
During the Toronto show, which was hosted by Crazy Rich Asians star Awkwafina, the title for Best EDM/Dance Artist or Group went to the mysterious hitmaker. Standing in the backstage corridor, the masked producer took to the stage to accept the award and that's when we learned that not all was as it appeared. Taking off his headpiece, the vision in white turned out to be Shawn Mendes instead of the famed producer. "Thank you so much," the 20-year-old singer/songwriter jokingly said as the crowd roared with applause over the surprise appearance. Mendes was also on-site to pick up the titles for Best Pop Artist or Group, Artist of the Year, Fan Fave Artist and Fan Fave Video.
The real Marshmello also appeared at the annual ceremony alongside Anne-Marie to perform a medley of their successful hits: "2002" and "Friends." Speaking of, the latter was just certified platinum by the Recording Industry Association of America (RIAA), recognizing 1 million equivalent song units earned in the United States. "I love Marshmello," the budding pop star said in a press release announcing the big news. "Working with him was so much fun and I can't wait to work with him again. Talented, humble, lovely human.....I mean, Marshmello."